Let your imagination
run wild
The MassArt Art Museum (MAAM) is Boston's newest museum, a space to experience works by visionary artists at the forefront of contemporary art. As MassArt's teaching museum, we are committed to educating and empowering the next generation of artists—both on our campus and throughout the world.
Ten years, three months, three days, and counting...That's how long we have been dreaming of making the MassArt Art Museum, or MAAM, a reality. MAAM is Boston's newest and only free contemporary art museum, a destination to experience art that you've never seen before. A place to imagine the unimagined.
As a kunsthalle, a non-collecting museum with no permanent collection, our exhibitions will perpetually change to feature contemporary art across a wide array of disciplines—a true reflection of the diversity of majors at MassArt, the first publicly funded freestanding art school in the United States.
I am deeply grateful to all the visionaries who believed in our dream to build a world-class teaching museum in the heart of our city. Also, a heartfelt thanks goes to everyone who gave a gift, big or small, to help us create this vibrant, open, and inclusive space. And to the new friends we will make, thank you in advance for your support of MAAM, I'm excited to meet you.
Lisa Tung, Executive Director
To open eyes, expand minds, and create opportunity through the lens of contemporary art
We make groundbreaking contemporary art accessible to our community and the world—free of charge. We invite everyone to experience contemporary art, exchange ideas, and be part of the MAAM community.
MAAM is a kunsthalle, a non-collecting museum. We are always changing, forever evolving. We seek to demonstrate how contemporary art shapes our understanding of the world.
We curate diverse exhibitions designed to connect everyone to contemporary art. MAAM builds meaningful relationships with individuals and institutions in order to spark positive change in our community.
We are a teaching museum committed to shaping the visions and futures of MassArt students. Our educational reach is boundless: MAAM empowers families & communities through contemporary art.
We are bold, we seek the unprecedented. We inspire a broad and diverse array of artists – and ourselves – to experiment and transcend traditional disciplines.
Land Acknowledgment
The campus of Massachusetts College of Art and Design is located on the lands of indigenous tribes, such as the Wampanoag, Pawtucket, and Massachusett. We make this land acknowledgment to pay respect to these communities – past, present, and future – and recognize the painful history of erasure and ongoing violence toward indigenous people in North America and across the world. We acknowledge this part of our history to affirm our values to pursue a more just, compassionate, and equitable learning environment.
Spacious, breathtaking, inspiring
The newly renovated MAAM features:
A new front entrance, elevator, and climate and relative-humidity control system

Towering 36-foot ceilings that expose the original 1906 terracotta vaulting and steel trusses, allowing us to exhibit large-scale, site-specific installations

An expansive art overlook encourages you to view art from various perspectives

The Arne Glimcher Plaza, a new outdoor space that invites you to rest, relax, and reflect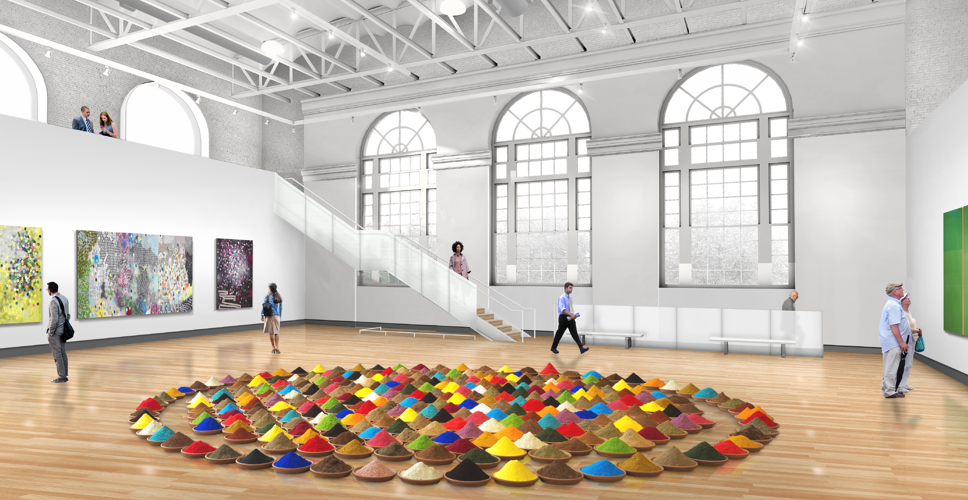 Art inspires new questions and uncharted experiences. When it comes to interpreting art, there is no incorrect answer.
Art can bring you to the point of absolute stillness, a state where anything is possible.
Museums provide an escape from the norms of everyday life. They allow me to journey into the unexplored and challenge me to think beyond myself.
Artmaking spans geographies, cultures, and time periods, tapping into deeply human desires to communicate. Art offers windows into other worlds and possibilities.
Visiting a museum is a human experience. It exposes you to ideas and expressions that you never envisioned and introduces you to new faces and different points of view.
Art brings imagination to life and allows me to dream, question, and explore concepts in new and unexpected ways.
So many ways to stay connected
MassArt Art Museum
621 Huntington Ave
Boston, MA 02115