Let your imagination
run wild
The MassArt Art Museum (MAAM) is Boston's newest museum, a space to experience works by visionary artists at the forefront of contemporary art. As MassArt's teaching museum, we are committed to educating and empowering the next generation of artists—both on our campus and throughout the world.
One of MAAM's core values is "Open." Not just in the physical sense of the word, but that we are free, accessible, welcoming — open to, and for, all. We strive to share stories by a wide representation of artists and to make contemporary art available to everyone.
In these turbulent times, stories that reflect a broad range of experiences and perspectives are needed more than ever. MAAM acknowledges that white supremacy and systemic racism are pervasive issues in our culture, our museums, and the art world in particular. We want to address and help change this present reality to create a more inclusive, anti-racist, and anti-colonialist museum culture.
Recognizing that anti-racism requires constant learning (and in some cases unlearning), all MAAM staff will continue to participate in the college's ongoing Anti-Racism Dialogue groups to deepen our knowledge of the Black experience and our roles in perpetuating anti-Black cultural norms. We are drawing on MassArt's Anti-Racism resources to critically evaluate our field and change longstanding practices that contribute to racism and discrimination against BIPOC in both subtle and overt ways.
Our goal is to build better cultural equity practices to ensure that all people are well-represented in the arts. MAAM staff will be participating in the Cultural Equity Learning Community (CELC) 8-part webinar this fall. CELC is committed to building racial equity and justice in the arts through educational opportunities for culture sector leaders.
MAAM is establishing a new program to encourage and support BIPOC students exploring museum careers. An essential part of MAAM's mission is to employ and train MassArt students so that they can become the museum professionals of tomorrow. Although most internships are unpaid in the arts, MAAM has always compensated all student employees, including interns, because we want everyone to have a chance to experience museum careers, regardless of their economic background.
Museums are overwhelmingly white-dominated institutions. In light of this we are creating a scholarship fund for MassArt BIPOC undergraduate students who are considering futures in museums. In the fall of 2021 we will hire three students to work at MAAM in core areas: museum education, exhibitions, and museum operations. These students will be paid an hourly wage and will also receive a $2,500 scholarship in addition to their pay. The students will work with museum staff to realize our exhibitions and programs, be offered mentorship by BIPOC arts leaders, and have special opportunities for additional leadership and professional training. We will invite these students back each year to deepen their experience and develop their leadership skills while also hiring a new cohort annually, building a robust structure of mutual support to aid them as they begin their professional journeys.
As the teaching museum of MassArt, we help students, educators, and our community experience the power of art. Through the MAAM Catalyst Fellows we hope to educate, train, and empower the next generation of arts and museum professionals and together, change our field to help realize a more equitable art world.
For more information about how to support this initiative please contact Lisa Tung (lisa.tung@massart.edu).
To open eyes, expand minds, and create opportunity through the lens of contemporary art
We make groundbreaking contemporary art accessible to our community and the world—free of charge. We invite everyone to experience contemporary art, exchange ideas, and be part of the MAAM community.
MAAM is a kunsthalle, a non-collecting museum. We are always changing, forever evolving. We seek to demonstrate how contemporary art shapes our understanding of the world.
We curate diverse exhibitions designed to connect everyone to contemporary art. MAAM builds meaningful relationships with individuals and institutions in order to spark positive change in our community.
We are a teaching museum committed to shaping the visions and futures of MassArt students. Our educational reach is boundless: MAAM empowers families & communities through contemporary art.
We are bold, we seek the unprecedented. We inspire a broad and diverse array of artists – and ourselves – to experiment and transcend traditional disciplines.
Land Acknowledgment
The campus of Massachusetts College of Art and Design is located on the lands of indigenous tribes, such as the Wampanoag, Pawtucket, and Massachusett. We make this land acknowledgment to pay respect to these communities – past, present, and future – and recognize the painful history of erasure and ongoing violence toward indigenous people in North America and across the world. We acknowledge this part of our history to affirm our values to pursue a more just, compassionate, and equitable learning environment.
Spacious, breathtaking, inspiring
The newly renovated MAAM features:
A new front entrance, elevator, and climate and relative-humidity control system

Towering 36-foot ceilings that expose the original 1906 terracotta vaulting and steel trusses, allowing us to exhibit large-scale, site-specific installations

An expansive art overlook encourages you to view art from various perspectives

The Arne Glimcher Plaza, a new outdoor space that invites you to rest, relax, and reflect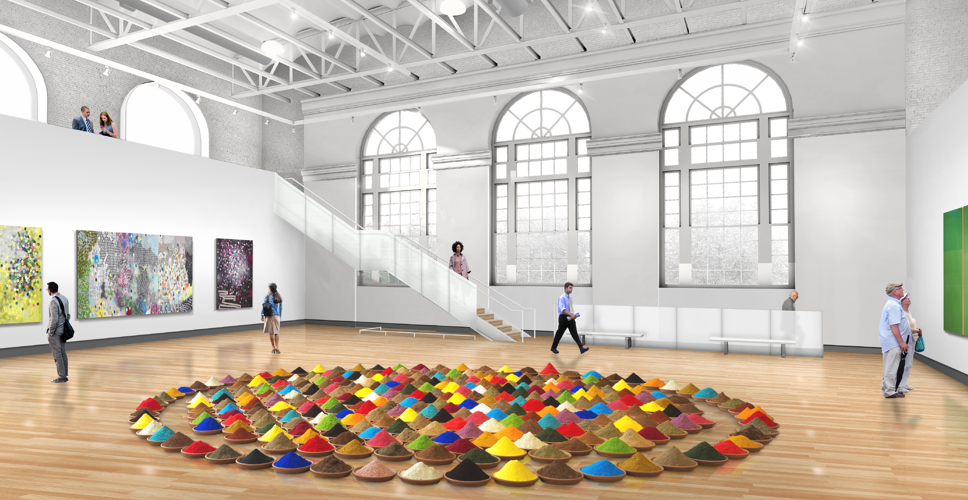 So many ways to stay connected
MassArt Art Museum
621 Huntington Ave
Boston, MA 02115