Let your imagination
run wild
The MassArt Art Museum (MAAM) is Boston's newest museum, a space to experience works by visionary artists at the forefront of contemporary art. As MassArt's teaching museum, we are committed to educating and empowering the next generation of artists—both on our campus and throughout the world.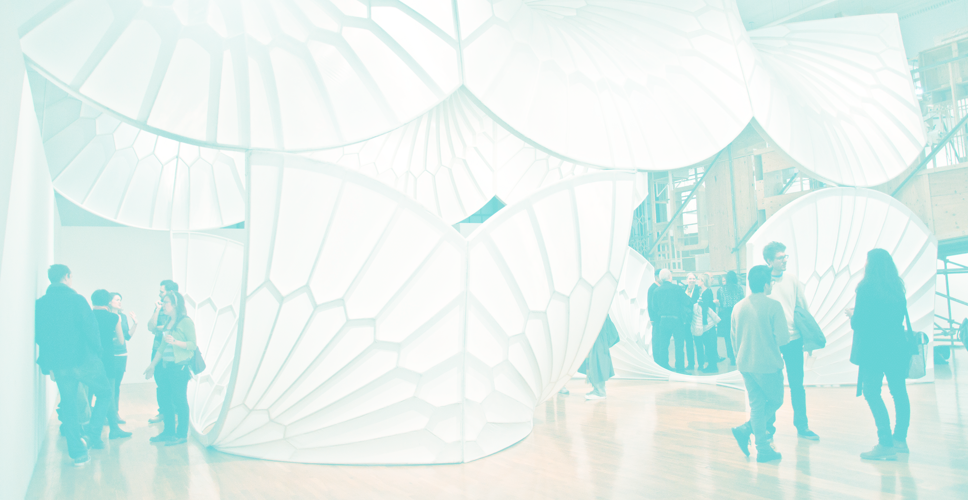 The MassArt Art Museum (MAAM) is a place to imagine the unimagined. As a kunsthalle, or non-collecting museum, MAAM's exhibitions are current, resonant, and relevant. MAAM proudly serves as the teaching museum for MassArt and has a passionate mission to educate, inspire, and empower future generations of artists, designers, and educators—both on campus and beyond.
MAAM is a place to take risks, experiment, create, and enjoy. Reflecting various voices and viewpoints through its exhibitions and programs, MAAM is a welcoming space for everyone to see myriad media, ask questions, and experience something extraordinary. 
The renovation of and transformation to MAAM was the result of the largest private fundraising effort in the college's history and we are grateful to the generous individuals and organizations who shared our belief that contemporary art should be experienced without boundaries or barriers. Our public grand opening on February 22, 2020 drew lines around the block, but thirteen days later, MAAM closed due to COVID-19. 
We quickly pivoted and created a new virtual museum that allowed us to fulfill our mission in ways we had never imagined, free from physical and geographic limitations. For MAAM From Home we created artmaking activities for all ages from toddlers to octogenarians that included music, live models, and storytelling; educational offerings for grades 4-12 across Massachusetts as well as neighboring states; behind-the-scenes studio visits with artists; enhanced professional training for our student Museum Attendants; and our first ever dual-language program—Looking to Learn Online Portuguese! 
To those of you who followed us on our digital journey—thank you for inviting us into your homes. Despite challenges and hardships we enjoyed live virtual drawing sessions with community members across the globe; seeing what your children created at your kitchen tables during our Saturday morning Art & Stories program; and bringing art to virtual classrooms when teachers and students needed inspiration the most. 

As we ease back into in-person gatherings, we will build on our recent experiences and apply lessons we've learned, keeping some of our online programs and refining new ones.

MAAM is always evolving, always welcoming, always free. 
To open eyes, expand minds, and create opportunity through the lens of contemporary art
We make groundbreaking contemporary art accessible to our community and the world—free of charge. We invite everyone to experience contemporary art, exchange ideas, and be part of the MAAM community.
MAAM is a kunsthalle, a non-collecting museum. We are always changing, forever evolving. We seek to demonstrate how contemporary art shapes our understanding of the world.
We curate diverse exhibitions designed to connect everyone to contemporary art. MAAM builds meaningful relationships with individuals and institutions in order to spark positive change in our community.
We are a teaching museum committed to shaping the visions and futures of MassArt students. Our educational reach is boundless: MAAM empowers families & communities through contemporary art.
We are bold, we seek the unprecedented. We inspire a broad and diverse array of artists – and ourselves – to experiment and transcend traditional disciplines.
Land Acknowledgment
The campus of Massachusetts College of Art and Design is located on the lands of indigenous tribes, such as the Wampanoag and Massachusett. We make this land acknowledgment to pay respect to these communities – past, present, and future – and recognize the painful history of erasure and ongoing violence toward indigenous people in North America and across the world. We acknowledge this part of our history to affirm our values to pursue a more just, compassionate, and equitable learning environment.
Spacious, breathtaking, inspiring
The newly renovated MAAM features:
A new front entrance, elevator, and climate and relative-humidity control system

Towering 36-foot ceilings that expose the original 1906 terracotta vaulting and steel trusses, allowing us to exhibit large-scale, site-specific installations

An expansive art overlook encourages you to view art from various perspectives

The Arne Glimcher Plaza, a new outdoor space that invites you to rest, relax, and reflect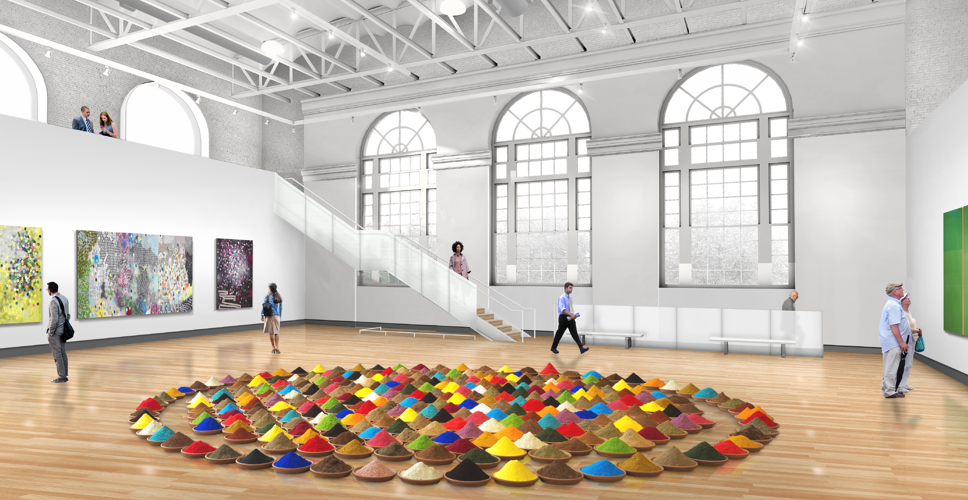 So many ways to stay connected
MassArt Art Museum
621 Huntington Ave
Boston, MA 02115