MAAM is a teaching museum
As a teaching museum, MAAM is educating and inspiring the next generation of artists at MassArt – as well as students from area colleges and universities – through exhibitions, programs, and engagement with our communities.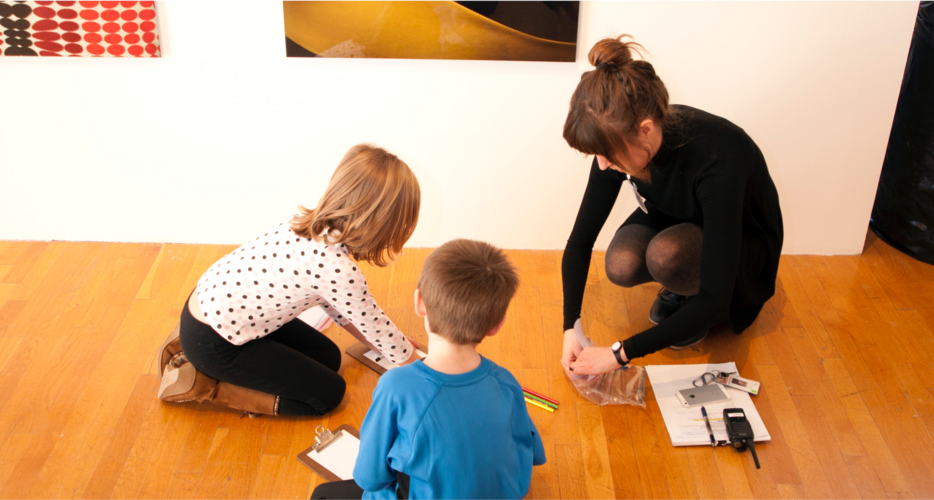 The art of learning meets the learning of art
All of our exhibitions and programs complement the wide array of disciplines offered at MassArt. We inspire students to create meaningful work while demonstrating that their chosen profession – whether it's artist, designer, educator, or museum professional – is a viable one. Students acquire museum skills by engaging with the exhibitions on view, planning public programs, and installing shows.
For MassArt students
MAAM offers MassArt students various opportunities to engage with contemporary art, both inside and outside the classroom:
In-depth exhibition research opportunities

On-campus employment and professional training 

Tours and class visits with artists and curators

Working alongside artists to unpack and install work
For college students
You don't have to be a MassArt student to experience everything that MAAM offers. We provide these (and other!) opportunities for area college students: 
Engagement with artists, curators, and other museum staff

Art instruction and making, such as Drawing Together

Paid internships

Curator-led tours
"Being a gallery attendant,
I learned that teaching is about helping someone grow in any way, no matter how small."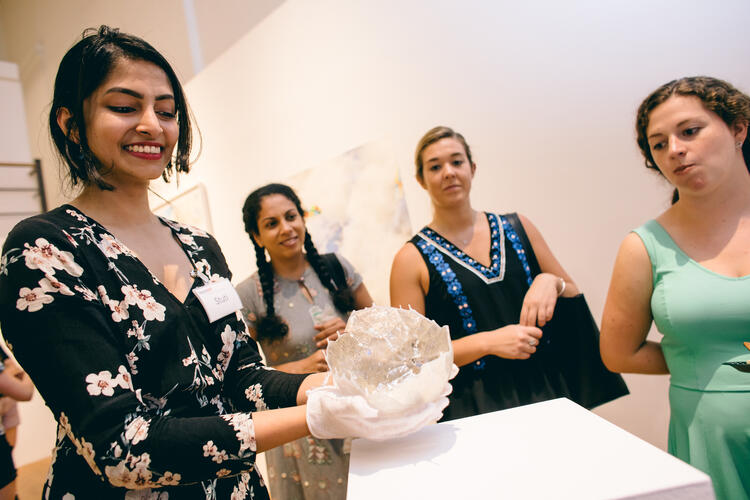 Work with us!
We value our role as a contemporary art museum woven into a vibrant and thriving community of makers. MAAM provides MassArt students with the opportunity to acquire critical professional-level museum skills, such as design, research, installation, art education, and programming.
Museum Attendants
Museum Attendants welcome our visitors, while also ensuring the safety of our artwork. As makers, our attendants are knowledgeable about the works on view and the artists who created them. The Museum Attendant Program offers paid positions; rising MassArt sophomores and juniors are eligible to apply. 
Museum Installers 
Museum Installers work with the Chief Preparator and curatorial staff to prepare exhibitions at MAAM. Our installers carefully unpack and handle artwork, install, and maintain our exhibitions while gaining invaluable experience toward a preparatorial career. This paid position is available to both undergraduate and graduate students. 
MassArt Student Employees (undergrad and grad)
MassArt Student Employees work with museum staff to ensure that the day-to-day operations at MAAM run smoothly. This paid position is available to both undergraduate and graduate students. 
Curatorial Fellows
Curatorial Fellows are a valuable part of the MAAM team. Key responsibilities of this position include exhibition research and coordination, managing gallery publications and online media, and corresponding with artists, galleries, and lenders. Curatorial Fellows must be well-versed in contemporary art and must hold a Bachelor's degree in Art History, Museum Studies, or a related field.
"Being a gallery attendant opened my eyes to becoming a future educator. I learned how museums intersect with both the community and classroom."