Empowering families and our communities through art
As MassArt's teaching museum, MAAM inspires people of all ages to broaden their views of contemporary art and culture.
We invite you and your family to interact and learn at MAAM through meaningful conversation, inquiry, and careful looking. Through our exhibitions and programs, MAAM empowers youth, families, and our community to experience art as an essential component of learning.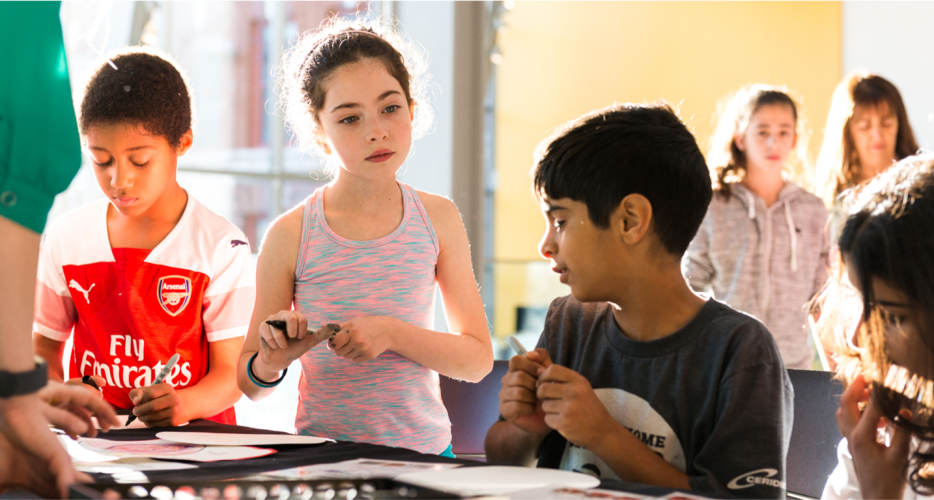 All of MAAM's educational programs are free of charge and open to the public
We promote a sense of belonging in the museum environment, and help visitors realize that cultural institutions, such as MAAM, are a resource for learning

We inspire learners of all ages to trust their voices and to follow their imagination and creativity

We provide opportunities for youth and families to think critically about contemporary art and to develop their artistic vocabulary

We help visitors recognize the diversity of art and artists, and promote learning about social issues through art

We demonstrate how artmaking is a meaningful activity that youth and families can perform at home
A day devoted to making art
We provide the materials and inspiration, just bring your creativity! Twice a year, we invite visitors of all ages to MAAM Maker Day, a day-long event featuring interactive activities and artmaking designed and guided by MassArt students, faculty, and staff. 
Our next Maker Day is scheduled for April 4, 2020.
Let's draw together!
Led by professional artists and educators, these collaborative creative sessions draw inspiration from the exhibitions on view at MAAM. Drawing Together is always free and open to the public. No previous art experience is required, and we provide the drawing materials. 
Share your work on Facebook, Twitter, and Instagram with the hashtag #MAAMDrawingTogether.
Our next Drawing Together is scheduled for spring 2020.
Experiencing art inside and outside the classroom
Our Looking to Learn program inspires Boston-area students to use their imagination and develop lifelong skills, such as collaboration, critical thinking, questioning, and reflection. For more than two decades, the program has remained a core component of MassArt's commitment to offering high-quality visual art experiences to young learners.
Looking to Learn is an experiential learning opportunity featuring a two-visit model: 
Visit 1: Orientation
1 hour in the classroom
Educators visit your classroom to introduce students to the College, the MassArt Art Museum, and featured exhibitions. Using visual tools and materials, educators introduce key concepts about art to prepare students for their follow-up visit to MAAM. 
Visit 2: Gallery visit
1.5 hours at MAAM
During an interactive guided tour, students explore the exhibitions on view, as well as the opportunities available to them at an art school, such as MassArt. 
Looking to Learn is available to students of Boston Public Schools. Contact your child's teacher or educator to learn more.