Teaching beyond the classroom
As MassArt's teaching museum, MAAM is a critical extension of the classroom, a place where faculty and students can interact with contemporary art and learn more about the inspiration and artists behind the works.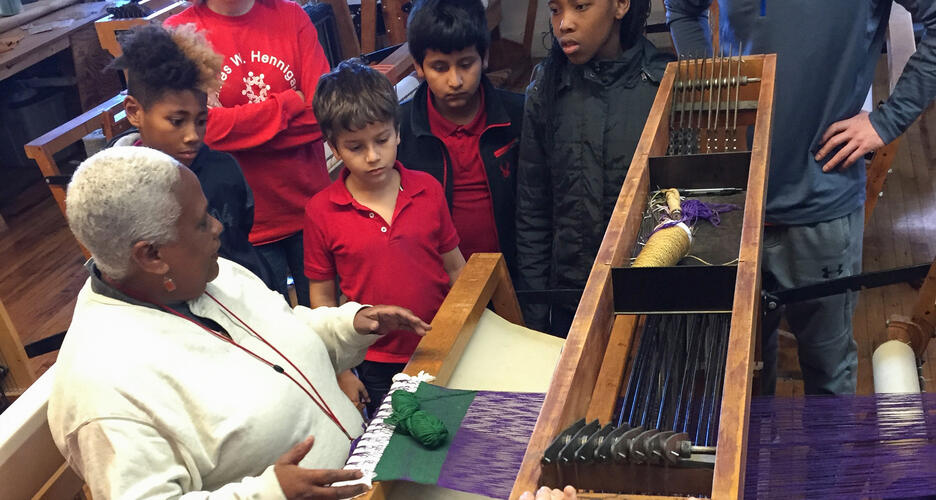 MAAM works with educators to enhance learning through contemporary art
We collaborate with faculty to produce exhibitions that complement and reflect the diversity of the MassArt curriculum and disciplines

We organize and co-sponsor events that promote interaction with our exhibitions

We provide customized tours with curators, educators, and preparatory staff

We demonstrate how a museum works, including the professional practices that contribute to its success

We offer an open space for community dialogue and engagement
Looking to Learn
Our Looking to Learn program inspires Boston-area students to use their imagination and develop lifelong skills, such as collaboration, critical thinking, questioning, and reflection. For more than two decades, the program has remained a core component of MassArt's commitment to offering high-quality visual art experiences to local students.
Looking to Learn is an experiential learning opportunity featuring a two-visit model:
Visit 1: Orientation
1 hour in the classroom
Educators visit your classroom to introduce students to the College, the MassArt Art Museum, and featured exhibitions. Using visual tools and materials, educators introduce key concepts about art to prepare students for their follow-up visit to MAAM. 
Visit 2: Gallery visit
1.5 hours at MAAM
During an interactive guided tour, students explore the exhibitions on view, as well as the opportunities available to them at an art school, such as MassArt. 
We encourage participating schools to apply for Big Yellow School Bus grants from the Massachusetts Cultural Council, and/or Target Field Trip grants to offset the cost of transportation to and from MassArt. If your school is ineligible for these grants, please contact us at lookingtolearn@massart.edu or 617.879.7342.
Questions about Looking to Learn?
Contact us at lookingtolearn@massart.edu or 617.879.7342. 
Student and Teacher Expectations
Looking to Learn is most successful when each student engages respectfully while observing, listening, and responding. We ask students to extend respect to peers, teachers, and chaperones, as well as the artworks and gallery spaces that make our shared encounters possible. Students should not be on their phones unless directed by an educator.
During each visit, classroom teachers and chaperones should join Looking to Learn teachers in cultivating an atmosphere of engaged group learning by modeling attentive participation and by actively monitoring student behavior. We ask that chaperones avoid being on their phones except when taking photographs or for necessary communication with other chaperones.
In the Galleries
We require a minimum of 1 chaperone for every 10 students during the gallery visit. Please review with your students prior to your visit:
We provide group storage for coats during gallery visits. Please discourage students from bringing backpacks and valuables whenever possible. MassArt is not responsible for lost or stolen items.

Visitors must respect the artworks and gallery spaces by refraining from touching the art or touching or leaning against walls or pedestals. Please help protect an 18-inch "force field" around all artworks.

Visitors should move in a safe, controlled manner while on the MassArt campus.

Food and drink are not permitted in the museum.

Flash photography is not permitted.

Only pencils are used to write in the galleries. We will provide them.

Students may be sitting on the floor or using messy materials during the visit. Please remind them to dress accordingly.

The museum is an accessible space for all. Please notify us in advance if anyone in your group requires accommodations.
"The students were thrilled to observe and participate in the ceramics studio. The entire experience was engaging. We will be looking forward to returning in the spring!"