Teaching beyond the classroom
As MassArt's teaching museum, MAAM is a critical extension of the classroom, a place where faculty and students can interact with contemporary art and learn more about the inspiration and artists behind the works.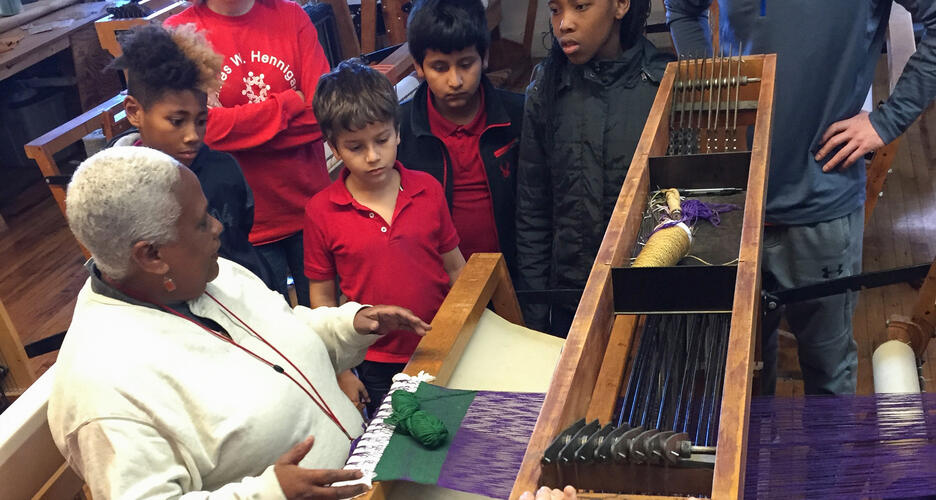 Looking to Learn Online
Our Looking to Learn program inspires Boston-area students to use their imagination and develop lifelong skills, such as collaboration, critical thinking, questioning, and reflection. For more than two decades, the program has remained a core component of MassArt's commitment to offering high-quality visual art experiences to local students.
MAAM is now offering Looking to Learn Online for students in grades 4-12! We've designed new interactive experiences for students to make art as they engage in online discussions, and explore our exhibitions virtually. We are happy to connect one-on-one with teachers to help create a rich learning experience for your students, to align a Looking to Learn Online lesson with your current curriculum, or to schedule a live virtual visit to your online classroom.
Email Julia Einstein, Looking to Learn Educator, at lookingtolearn@massart.edu to schedule an online visit, and to receive information about our online lessons and teacher resources.
MAAM works with educators to enhance learning through contemporary art
We collaborate with faculty to produce exhibitions that complement and reflect the diversity of the MassArt curriculum and disciplines

We organize and co-sponsor events that promote interaction with our exhibitions

We provide customized tours with curators, educators, and preparatory staff

We demonstrate how a museum works, including the professional practices that contribute to its success

We offer an open space for community dialogue and engagement
MassArt faculty may email maam@massart.edu to request a class interaction.
"The students were thrilled to observe and participate in the ceramics studio. The entire experience was engaging. We will be looking forward to returning in the spring!"