Make with MAAM
MAAM educators are having fun creating artmaking activities for you!
Curator of Education Mesma Belsaré, Education Graduate Assistant Tiffany Dogget '21, and Looking to Learn Educator Julia Einstein are devising art projects that will surely tap into your inner artist. Whenever possible, we've invited artists from our current exhibitions to join in on the fun.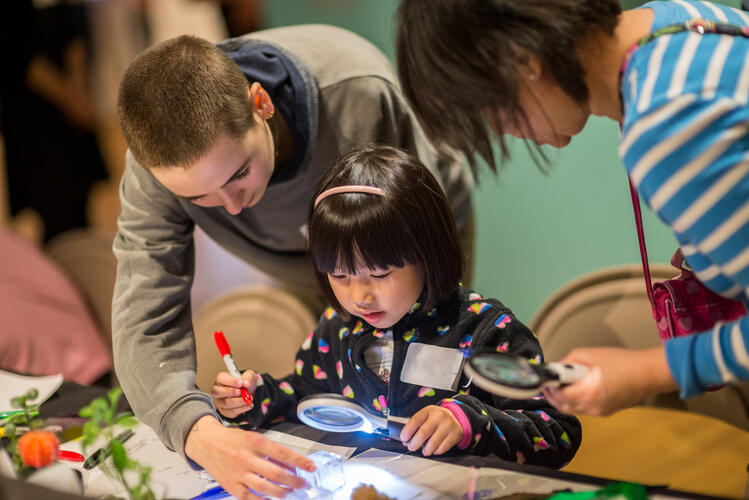 Paper Sculpture
Make your own paper sculpture with this activity created by our Looking to Learn Educator Julia Einstein inspired by Joana Vasconcelos's Valkyrie Mumbet.
Paper Sculpture Instructions
Materials
A strip of paper, markers, crayons, colored pencils, tape, and scissors.
Look
What do you see? This sculpture fills up an entire gallery. Look all around this sculpture, notice its size and colors.
Joana Vasconcelos uses mixed media like fabric, fringe, and pom poms to make her sculptures. For this activity you'll use materials from around your home and your imagination.
Step One
First, find inspiration for your drawing. An octopus? A dragon? A flower?
Step Two
Fold the strip of paper in half and then in half again.
Step Three
Draw an outline to the edge of the paper.
Step Four
Fill in your drawing with patterns. (This is the fun part!)
Step Five
Color in the patterns. Feel free to embellish with stickers, glitter, or collage.
Step Six
Now let's transform your drawing into a sculpture! Cut out your drawing and prop it up using the folds. You can add colored paper shapes to make it three-dimensional.
Create Your Player Instructions
Step One
Brainstorm your character! Use our writing prompts below to get started with some ideas.
What is your character's origin story?
Does your character have super powers?
What matters most to your character?
What is your character's most positive trait?
What is your character's biggest fear?
Where does your character live?
What era does your character live in?
Step Two
Print out or draw your character's body.
Step Three
Give your character life by coloring in and adding clothes and accessories that help tell their back-story and mission.
Step Four
Create a background or virtual fantasy world and take a fun photo of your character!
 Weaving with Paper
Inspired by the vibrant patterns seen in Yesterday is Here and Valkryie Mumbet, MAAM's Education Graduate Assistant Tiffany Dogget '21 created a weaving activity using paper and found materials.
Weaving with Paper Instructions
Let's play with color, pattern, and order with this paper weaving activity. We are going to create a weaving from colorful, copy, or any scrap paper you have around the house.
Step One
Cut slits ½" apart in an 8.5 x 11 cardstock or copy paper; these constitute the warp (vertical) of your weave. Then cut several  ½" paper strips; these will make the weft (horizontal) of your weave.
Step Two
Weave your paper strips (weft) into the cut strips (warp) "over" one and "under" one. The next paper strip will be "under" one then "over" one. Push the strips gently down all the way to the bottom. Continue until the paper slits are filled in with the strips.
Explore with different weaving patterns. You can see in this example where the strips were woven "over" three and "under" three in the middle for a pattern change. You can play with different combinations of colored and/or textured paper!
We heart coloring!
Artist Dan Hernandez, who's featured in our Game Changers exhibition, created a coloring page inspired by his artwork. Have fun coloring this mashup of video game aesthetics and Renaissance paintings!
More MAAM Coloring Pages
Add vibrant color and pattern to Joana Vasconcelos's Valkyrie Mumbet in our latest coloring page drawn by MAAM student designer Karen Chen '20.
To kick off our new coloring page series, Game Changers artist Paloma Dawkins created a coloring page inspired by her video games. Complete Paloma's imaginary garden with your personal touch.