Berklee Institute of Jazz and Gender Justice Debuts New Works
Past
1:30p–3:30p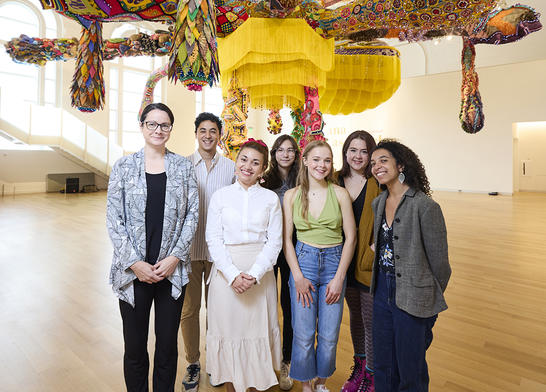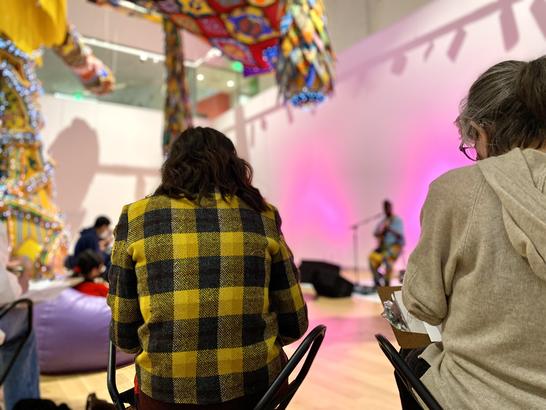 WORLD PREMIERE! Listen to the heroic story of Elizabeth "Mumbet" Freeman come to life through original compositions written by students and performed by Berklee College of Music's Institute of Jazz and Gender Justice. Commissioned by the MassArt Art Museum, students found inspiration in Joana Vasconcelos' monumental installation, Valkyrie Mumbet.
About the musicians:
Devon Gates is a bassist, vocalist, and composer from Atlanta, GA. She is studying social anthropology at Harvard College and jazz performance at Berklee College of Music, where she is also a student and intern with the Institute of Jazz and Gender Justice. As a composer, she is interested in bridging contemporary and traditional modes of storytelling across styles, genres, and disciplines, in order to create embodied spaces for collective reflection and community building.
Katie Webster is an alto saxophonist, composer, and improviser from Seattle, Washington. Currently pursuing her Masters degree at Berklee College of Music, she studies in both the Institute of Jazz and Gender Justice and the Global Jazz Institute. As a composer, she explores distinctive soundscapes through layers of playful counterpoint, seeking to capture particular moods while allowing musicians as much agency for interpretation as possible. Some of her musical inspirations include artists such as Anthony Braxton, Gary Bartz, Nicole Mitchell, Kris Davis, Tineke Postma and Tony Malaby.
Brian Urra is a Chilean violinist and composer who blends jazz, soul, celtic, and contemporary classical concepts in his music. Currently, in his final year at Berklee College of Music in Boston, Brian is pursuing a dual degree in Jazz Composition and Performance and is a student at the Berklee Global Jazz Institute and the Berklee Institute of Jazz and Gender Justice.
Arina Bagaryakova (bagarisha) is a singer, poet and pianist from Ekaterinburg (Russia), who is at her 7th semester at Berklee. Her sound can be described as a blend of Russian folk music, jazz and pop. She has been a student at the Berklee Jazz and Gender Justice Institute for three years.
Nika Ko is a pianist and composer from Portland, Oregon. They are currently completing their last semester at Berklee where they study film scoring and piano performance. Their music spans many genres, including jazz, classical, and electronic music. Whether it's presented in a film or on the bandstand, Nika's music has often been described as cinematic and evocative. They take inspiration from composers like Wayne Shorter, Horace Silver, Bela Bartok, Gustav Mahler, Joe Hisaishi, John Williams and A.R Rahman.
Anabel Gil Diaz is a flutist, pianist and composer from Cuba/Spain, currently in her 7th semester at Berklee College of music. Her music incorporates elements of Cuban music, third-stream jazz, and flamenco music. Her main compositional influence is Orbert Davis, director of the Chicago Jazz Philharmonic Orchestra, whom she has worked with for 8 years.