Performance
Past
Ceremony of the Steps by Jace Clayton
Featuring Boston Community Choir
7:30p–8:00p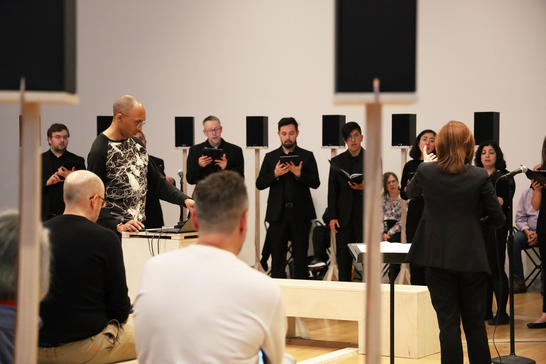 Ceremony of the Steps, a performance piece by artist Jace Clayton, highlights two ways in which people join voices and come together – in celebration and in protest. On June 22, the Boston Community Choir, under the direction of Dr. Dennis Slaughter, will perform a selection of their regular standards as well as a new arrangement composed by Clayton in partnership with the chorus. Through its melding of harmony and incessant repetition, Ceremony of the Steps features both a capella song and ambient loops of electronically-altered voices that blend the structure of choral compositions with the recurring chants for social change. 

This performance will occur at MassArt Art Museum in the Stephen D. Paine Gallery, currently featuring the exhibition Jace Clayton: They Are Part.
FreE
Advanced registration required.