Paper Sculpture
Make your own paper sculpture with this activity created by our Looking to Learn Educator Julia Einstein inspired by Joana Vasconcelos's Valkyrie Mumbet.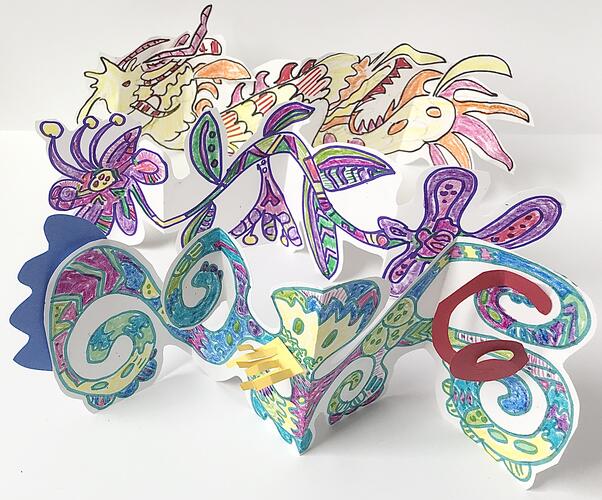 Instructions
Materials
A strip of paper, markers, crayons, colored pencils, tape, and scissors.
Look
What do you see? This sculpture fills up an entire gallery. Look all around this sculpture, notice its size and colors.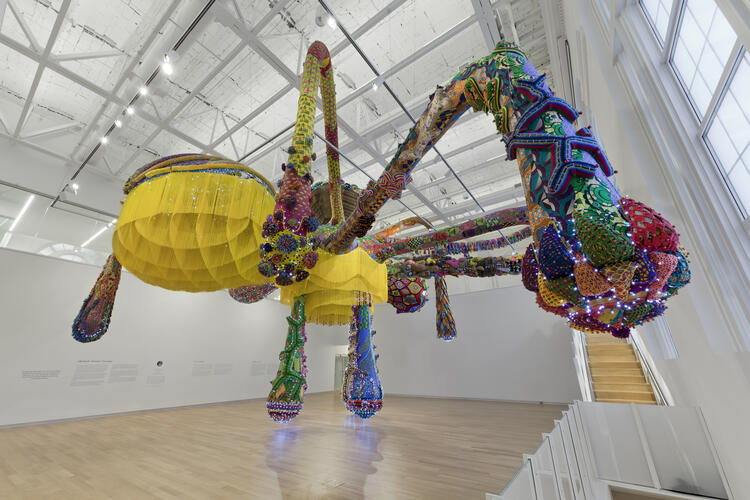 Joana Vasconcelos uses mixed media like fabric, fringe, and pom poms to make her sculptures. For this activity you'll use materials from around your home and your imagination.
Step One
First, find inspiration for your drawing. An octopus? A dragon? A flower?
Step Two
Fold the strip of paper in half and then in half again.

Step Three
Draw an outline to the edge of the paper.

Step Four
Fill in your drawing with patterns. (This is the fun part!)

Step Five
Color in the patterns. Feel free to embellish with stickers, glitter, or collage.

Step Six
Now let's transform your drawing into a sculpture! Cut out your drawing and prop it up using the folds. You can add colored paper shapes to make it three-dimensional.