Art on the Plaza
Past
12:00p–4:00p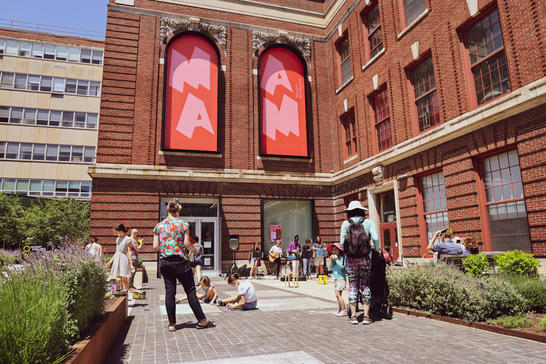 Join MAAM for outdoor fun this summer! Art on the Plaza, our popular warm-weather series for all ages, kicks-off on June 10. Share your pride and spirit with colorful sidewalk chalk, get creative with hands-on artmaking inside and out, and enjoy live music offered in partnership with Fenway Porchfest, a free music festival enlivening outdoor spaces throughout the Fenway. While you're here, explore the art of sound in Jace Clayton's multisensory exhibition They Are Part and discover the work of artist, feminist icon, and MassArt alumna May Stevens in the exhibition May Stevens: My Mothers. Rain date: June 11. 
Performer Lineup 
Daniela Gómez, 12:00pm
A singer/songwriter from Mexico City mixing jazz, folk and electronic music to take listeners on a journey into the multiverse of art, nature, love, and consciousness.
King Imp, 1:30pm
A weird pop family band–uncanny guitars, big drums, prog arrangements with punk musicianship! 
Aili Bauman, 3:00pm 
Nature oriented and free spirited, Aili is an artist that uplifts and inspires people with her music. She is the perfect blend of indie folk and R&B as she tells stories that take you on a journey with her lyrics.