Twilight at MAAM
6:00p–8:00p
Free and open to the public. Always.
Register Now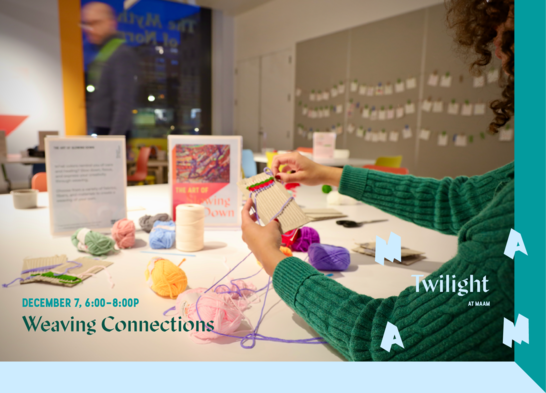 Join us for Twilight at MAAM–mix up your evening during this new series featuring creative conversation, seasonal mocktails, and hands-on fun. 
Learn the basics of working with fibers–create a weaving on your own miniature loom and find inspiration in the current exhibition, The Myth of Normal: A Celebration of Authentic Expression. articipate in short, conversational pop-up talks throughout the museum; enjoy live music in Bakalar gallery featuring musicians Anabel Gil Diaz, Nika Ko, and Brian Urra from the Berklee Institute of Jazz and Gender Justice; and warm up your evening with a soothing mocktail.
Meet the Musicians
Anabel Gil Diaz, @anabellita94
Nika Ko, @_nikako_
Brian Urra, @brianfiddle
Ticketing Notice
This event is free with advance registration. MAAM may accommodate unregistered guests on the evening of this event only as capacity allows; tickets on the evening of the event are not guaranteed. Evening events often sell out; plan ahead and register in advance.
Documentation Notice  
Photos and/or videos will be taken at this event. By attending this event, you acknowledge and agree that your likeness may be included in photos and videos of the event and that those photos and videos may be used by MassArt in connection with MassArt and MassArt Art Museum communications. If you do not agree with this usage, please notify a staff member upon arrival to receive a no-photo sticker.
Access
MassArt Art Museum is committed to creating a welcoming, accessible, and inclusive environment during in-person and virtual programs and events. To request an access or disability-related accommodation, please contact MassArt Art Museum at maam@massart.edu at least two weeks before the date of the event.
Free
Advance REGISTRATION REQUIRED