Kathryn Kolbert Lecture
The End of Roe v. Wade and the Future of Reproductive Rights
6:30p–8:00p
Free and open to the public. Always.
Register Now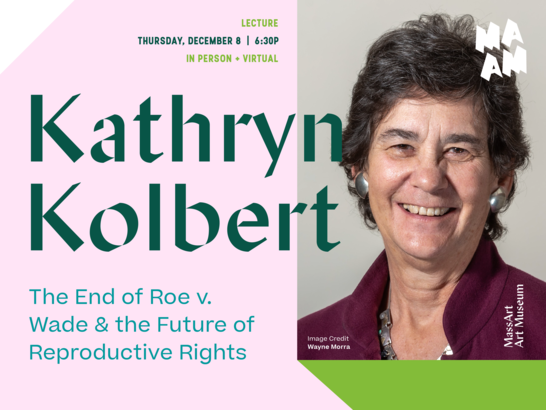 Kathryn Kolbert is a public-interest attorney, journalist, and co-founder of the Center for Reproductive Rights. She argued Planned Parenthood v. Casey, the 1992 Supreme Court case, widely credited with saving Roe v. Wade, and has been recognized by The National Law Journal as one of the "100 Most Influential Lawyers in America." Kolbert will reflect on her nearly 50 years of legal advocacy and envision the future of the reproductive justice movement during her conversation at MassArt.
Following the lecture, enjoy a special viewing of the exhibition Designing Motherhood: Things That Make and Break Our Births, and a book signing with Kolbert. Copies of Controlling Women: What We Must Do Now to Save Reproductive Freedom by Kathryn Kolbert and Julie F. Kay will be available for purchase.